What is a VSAT?
A VSAT (Very Small Aperture Terminals) is considered an essential piece of maritime satellite equipment for many yachts to achieve a high-speed, reliable connection whilst offshore. Today's modern-day maritime VSAT offerings are a significant development from the slower L-band services of the past. Maritime VSATs first entered the market in 1986, and satellite provider Marlink deployed a stabilised VSAT antenna on a ship in 1991. As the demand for connectivity has increased, the VSAT maritime market has gone from strength to strength, more than tripling in size over the past three years.
How does maritime VSAT work?
As with all VSATs, a maritime VSAT is a two-way satellite internet terminal that receives and transmits real-time data via satellites. It is, however, unique in that it travels at speeds of up to 30 knots across the ocean. Therefore the antenna is stabilised to track the desired satellite accurately. The antennas are protected by a fibreglass radome, which prevents satellite interference from wind and other harsh environmental conditions. These antennas are 2.4 metres or less in diameter, with the majority ranging from 75cm to 1.2m.
The diagram below shows that the BUC (Block Upconverter) converts frequencies from lower to higher levels. BUCs are typically 8W, 16W and 25W, and in simple terms, the higher the BUC power, the higher the upload speed.  A maritime VSAT system consists of two parts the 'Above Deck Unit – ADU', which contains the antennas, and the 'Below Deck Unit – BDU', which sits within the yacht in a technical area and includes a modem, router and antenna control unit (ACU).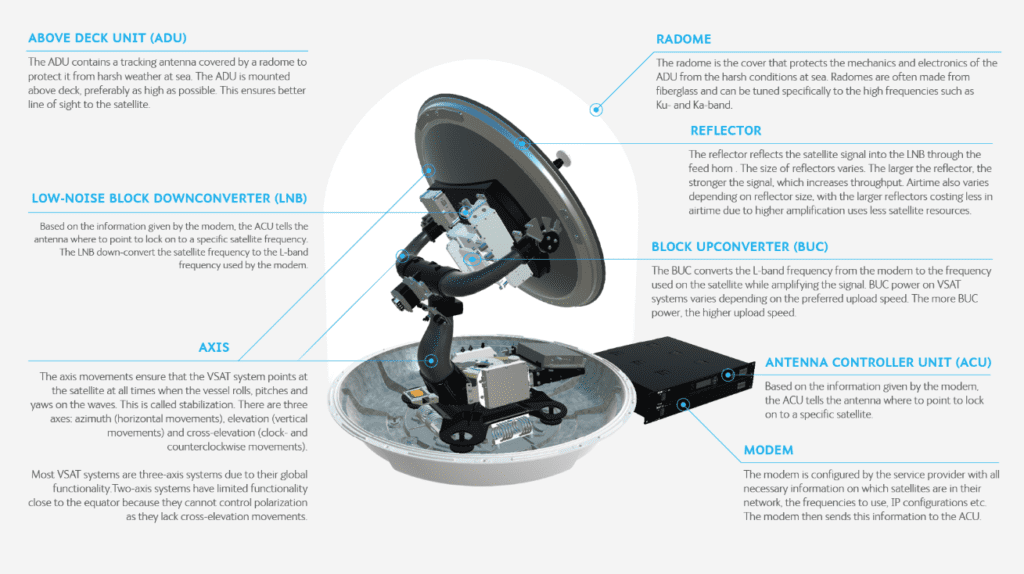 VSAT advantages and disadvantages
Advantages
Fixed price costing
A strong advantage of VSAT airtime contracts is its fixed-cost pricing structure and unlimited use. For a monthly price, you are guaranteed certain speeds (more on this below) and have unlimited access to this connection, with no unexpected or additional fees.
Guaranteed speeds
Unlike cellular data contracts VSAT airtime is sold with service level agreements to guarantee network availability. Contracts are sold based on an MIR – the 'Maximum Information Rate' (the maximum speed achievable) and a CIR – the 'Committed Information Rate' (the guaranteed minimum speed that your yacht will achieve).
Reliability and Flexibility
A VSAT connection is a highly reliable maritime connectivity solution, with up-times in the region of 99.9% and above. Airtime providers are also becoming increasingly flexible, allowing generous layup periods and suspension days. In addition, high-speed upgrades are available, an excellent feature for when guests are on board.
Disadvantages
High cost
Whilst its reliability is a benefit, this comes at a high cost, particularly when high bandwidth is required. Maritime VSAT is significantly more expensive than any terrestrial internet service on the market (which is why we recommend yachts have a hybrid 4G/5G/VSAT solution). In addition to high service costs, the initial hardware investment is also high. A VSAT antenna system can cost upwards of $60,000, along with installation costs.
High latency
VSATs operate from a geostationary satellite constellation which orbits 36,000km above the earth. Because of this distance, there is a delay of around 250 milliseconds, and protocol processing adds another 300 to 500 milliseconds, creating a higher latency than terrestrial providers. Latency is the time it takes for data to pass from one point on a network to another. This delay can be frustrating when using applications that require constant two-way communication, such as gaming.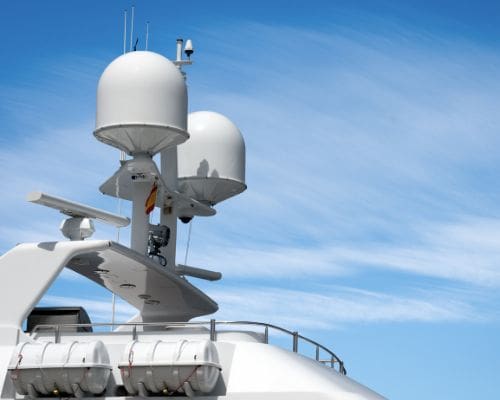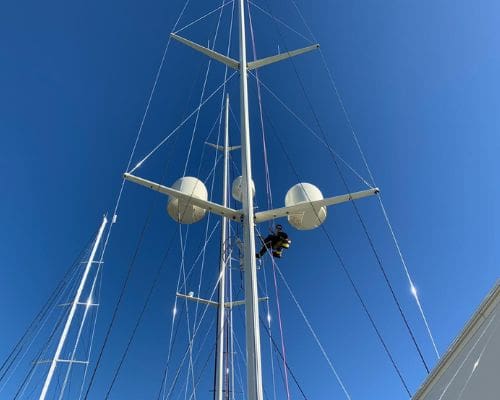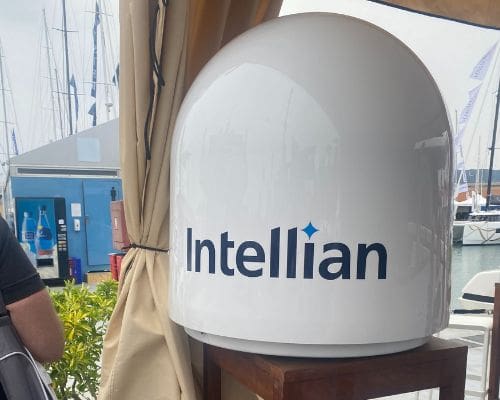 Choosing the right VSAT solution
As a growing industry, many options are available to yachts seeking a VSAT connection. Choosing a suitable solution is not always easy, so it is often best left to the experts. Below is a summary of the key factors to consider.
Antennas
Antennas are now designed with increased flexibility and futureproofing capabilities. For example the Intellian V100NX is Ku/Ka dual band ready and has GEO/MEO/LEO tracking capabilities. Therefore, when selecting an antenna, it is sensible to invest in a model that is fit for the future in the ever-evolving satellite industry.
Antenna size and BUC are also vital considerations, which should be determined based on the size and design of the vessel. If beam blockage is identified as a potential issue, dual antennas may be the best solution. The intended geographical area of operation also comes into the equation. For example, if you're planning to sail to destinations such as the Northwest Passage, a BUC of 25W will likely be required to receive a VSAT connection.
What equipment do you already have? Some antennas can be upgraded, with suppliers selling upgrade kits. Therefore, upgrading what you have may be more cost-effective than purchasing all new hardware.
Providers and regions
As marine communications specialists, we work with leading VSAT airtime providers, including Speedcast, Marlink, and KVH, all of which offer similar services with slight differences in contract terms, support and coverage.
For our portfolio of yachts, a yachting region plan is our most commonly sold, providing access to the Mediterranean and Caribbean.  Other plans include global and regional (America, EMEA and Asia Pacific). This step is simple; you need to select a plan that will cover the regions you're travelling in; however, as mentioned above, many providers allow flexibility and the possibility to switch between plans as and when required.
VSAT speeds
Airtime providers offer a wide range of speed options, and OceanWeb can tailor and create bespoke plans to meet your specific requirements. When choosing a plan, questions we would ask are; what applications do you want to run over the satellite link? What applications are required by the owner?, this will help us to calculate bandwidth requirements.
If HD video streaming is essential, we recommend a download speed of 8 Mbit/s (MIR) and 4Mbit/s (CIR). You will need an antenna with a BUC of 20 Watts to achieve certain speeds, so this is another important consideration when selecting your VSAT hardware.
The future of VSAT
With growing demand comes increased expectations, with many users now desiring similar speeds that they can expect from a terrestrial internet connection. This has contributed to the increased interest and investment in alternative satellite networks, LEO (low-earth orbits) and MEO (medium-earth orbit). As these satellites are in lower orbits, (MEO has an altitude of 5,000 – 20,000 km and LEO has an altitude of 5,000 – 1,2000km), the latency is reduced by a factor of 15, to around 40 milliseconds.
New networks such as LEO satellites are cheaper to implement compared to GEO, however, to achieve a global connection, thousands of satellites are required. A leader in this market is Starlink, operated by SpaceX, which has recently launched Starlink Maritime, a 'high-speed, low-latency internet while at sea'. This service is currently being tested in the yachting regions; however, despite the high speeds promised to users, no SLAs are available, and therefore there is no guaranteed level of service. At OceanWeb we are excited to learn more about this emerging connectivity solution and have several yachts ready to take the leap. As of writing this, our biggest reservations are around the level of control we can have in order to adequately support our clients, and the infancy of the satellite service.
VSAT connectivity is a tried and tested solution which is undoubtedly the most reliable service currently available on the market. However, with heavy investments and innovation, these new satellite constellations are an interesting step forward in connectivity at sea.