Marine Satellite Communications
Superyacht Connectivity
Maritime VSAT – Internet at Sea
Maximum coverage, minimum cost
Maritime VSAT and satcoms services are at the core of our business, designed to keep you connected at all times. We offer global VSAT coverage across the best networks available to the yachting industry. Using industry-leading maritime VSAT providers such as Speedcast and KVH, we create tailored and bespoke VSAT internet solutions to suit your specific yachting needs.
Are you based in the Mediterranean, heading to the Caribbean, or venturing further afield to the Northwest Passage? We can provide your vessel with first-class support.
VSAT Installations and Support
Our in-house Intellian and Seatel certified engineers carry out VSAT installations, commissioning, and network configurations for our growing portfolio of yachts across the globe.
OceanWeb's engineers are available to provide support, performing health checks on your hardware and services remotely or via scheduled onboard visits.
We can provide a range of Satcom hardware including VSAT antennas, FleetBroadband and Iridium hardware packages.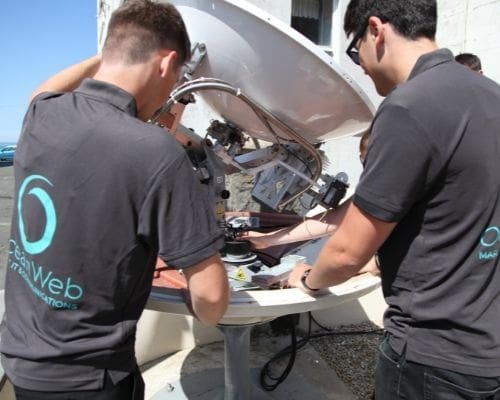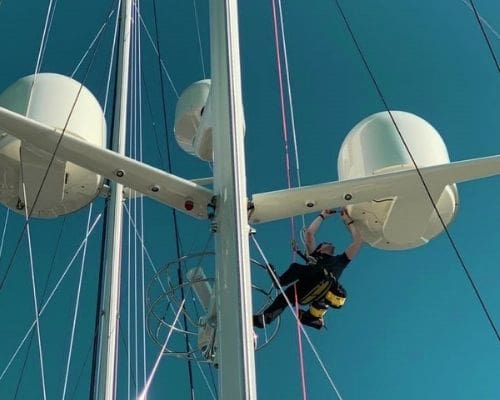 Marine satellite communication solutions
Our experience with maritime satellite communications extends to a full range of services including:
FleetBroadband - Maritime internet
Providing global connectivity (ex. Polar Regions) to the maritime industry, FleetBroadband is a reliable and efficient backup to your maritime VSAT connection.
Our FleetBroadband services include:
 Full hardware packages
Global coverage (ex. Polar Regions)
Flexible airtime contracts
Usage management
Streaming and background IP data
SatC
Inmarsat C is an IMO approved two-way store and forward communication system transmitting messages from ship-to-shore, shore-to-ship and ship-to-ship. We can fully register, activate, administer, and support your SatC terminals.
Our SatC services include:
Registration and administration
LRIT compliance testing
Letter Of Guarantee (LOG)
SSAS systems and routing
Installation upgrades
Iridium
GDMSS – Iridium GDMSS provides reliable, truly global coverage (including the Arctic and Antarctic), ensuring safety at sea.
Certus – Iridium Certus
Our Iridium services include:
Iridium hardware
Voice and data plans
Full global coverage
Hybrid VSAT/4G Solution
Combine your VSAT internet with a 4G data solution to maintain reliable and consistent access to the internet on board your vessel.