Do you know where you stand with the IMO's cybersecurity regulations? OceanWeb offers a variety of cutting edge cyber risk security solutions that can help to safeguard the private information you hold and share electronically to ensure it isn't compromised. The world of cybersecurity can be complicated and far reaching, which is why we recommend you leave it to the experts. Our team of IT professionals keep up-to-date with regular security training and industry news to ensure you're getting the most out of your cyber security mitigations without the headaches.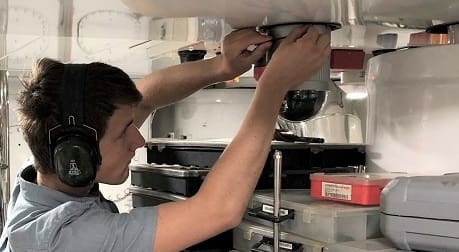 We can design and install bespoke CCTV systems using high quality camera equipment, which enable play back and monitoring of your footage from your own devices. Motion detection allows you to quickly skip through hours of footage to find the clips that you need. CCTV is becoming increasingly requested on superyachts, particularly those on charter. Don't delay, ask about our custom CCTV solutions today.
Intuitive mobile app
Motion alarms & notifications
Secure backup of recordings
Low-light, IR and thermal imaging
Secure remote viewing
Mobile Device Management (MDM) provides mobile device data protection, security, encryption, remote email configuration, and remote device wiping in case your device is lost or stolen. We can manage a broad range of devices throughout your vessel, including Apple iPhones, iPads, Android phones and tablets, Windows devices, and more. Let our team take the hard work out of protecting the security of your devices, ask our IT experts today.