Superyachts and pollution at sea
The superyacht industry has an unavoidable history of causing pollution at sea through diesel consumption and waste pollution. With our oceans now under significant threat, the industry is making positive strides in technological innovation and onboard behaviour to mitigate its impact on marine life. The varied and colourful life at sea that makes yachting so magical is now under threat, and at a much larger scale, so is our planet. Working as a collective, owners, shipbuilders, suppliers, crew and management companies are working towards a greener, more sustainable industry. But before we discuss these sustainable solutions, let's identify our ocean's current state and how we got here.
How much of the sea is polluted?
With the ocean covering over 70% of the planet, and home to most of the life on earth, ocean pollution is a significant issue that, as a society, we must overcome. After many years of fossil fuel use, single-use plastic and offshore drilling, 500 marine locations are now recorded as 'dead zones' globally, amounting to the size of the United Kingdom's surface.
There are a number of types of marine pollution, including ocean acidification, eutrophication, noise, and toxins and plastic waste, with superyachts arguably contributing most to the latter. As a population, we use 300 million tons of plastic annually, 50% of which is single-use plastic. 79% of this is sent to landfills or the sea, and it can take 500 – 100 years to degrade. The largest rubbish site on the planet is the Great Pacific Garbage Patch, twice the surface area of Texas, and it outnumbers sea life there by six to one.
According to National Geographic, more than 700 species are under serious threat due to plastic pollution. Without intervention, the predictions are bleak, with reports that by 2050, there will be more plastic waste in our ocean than fish.
How pollution affects sea life
One million marine animals die each year from plastic waste alone.
There are 5.25 trillion pieces of plastic debris estimated to be in our oceans
1 in 3 marine mammal species gets found entangled in litter
Marine plastic pollution is found in 100% of turtles, 59% of whales, and 36% of seals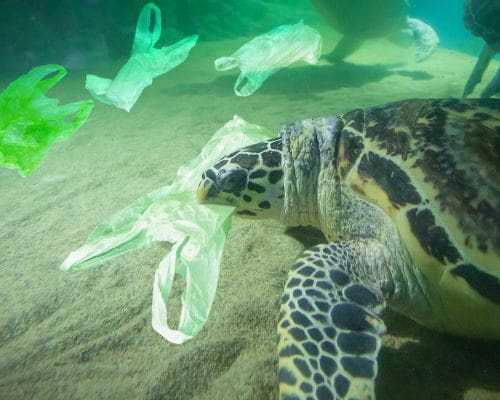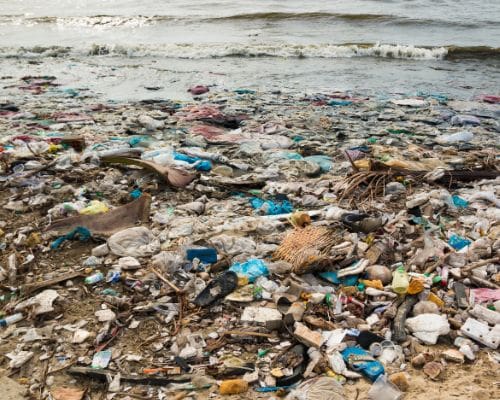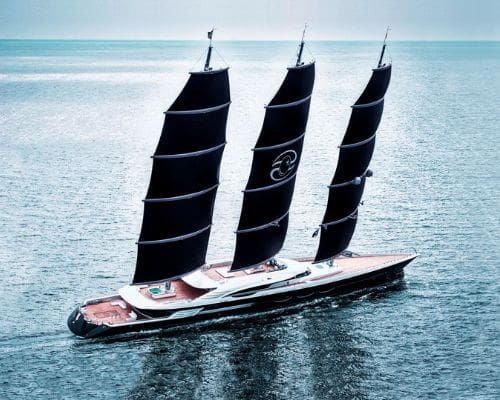 Sustainable yachting – How the industry is tackling pollution at sea
Whilst many may argue the industry is late to the party when it comes to sustainability, the sector has made significant, positive strides over the past several years. Driven by societal demand, the industry standard is shifting in terms of engines (finding alternatives to diesel-power), materials (such as the use of natural fibres), and new regulations put in place by industry bodies such as the IMO. A great example of sustainable design is our client, Black Pearl, built by Oceanco. It is one of the largest and most ecological sailing yachts on the ocean today. Her innovative propulsion system allows her to cross the Atlantic without burning even a litre of fossil fuel.
Many other shipbuilders are supporting this trend, with Feadship aiming to use only hybrid power by 2025 and Sanlorenzo declaring plans to deliver the first fuel cell-powered 50-metre superyacht by 2024. Vessels shifting to a hybrid engine can reduce fuel consumption by up to 30% and reduce noise and water pollution. Regulations introduced by the IMO in 2018 are helping to hold vessels accountable for their environmental impact by insisting ships over 5,000 tonnes in weight must collect and report consumption data for each type of fuel.
A shift in attitudes
Positive changes in onboard waste behaviour in terms of a reducing single-use plastics and recycling materials are also a key element to sustainable yachting. Investments have been made in equipment, such as drinking water purification systems, reducing plastic waste generation (an estimated 40 million litres of plastic bottled water per year are consumed by guests and crew on superyachts!). Many new build yachts are also being built with sophisticated waste management systems. This includes compactors which can compress waste to 14% of its original size, and bottle crushers, designed to grind bottles and jars into particles the size of sands
This shift towards greener attitudes also extends to the shipyards themselves. Benetti and Heesen are taking steps to reduce energy wastage at the yard by harnessing the benefits of solar power, LED lighting and particle filtration systems.
As you can see, innovation is in abundance, the greater challenge may be to determine which solutions are most viable, both technically and commercially.
The Clear Ocean Pact
An organisation hoping to support this change is the Clear Ocean Pact, established in 2017, with a clear mission "reduce the dependency of single-use plastic items in the superyacht industry for good".  As of July 2022, 130 yachts have signed up to the pact, alongside over 1,500 crew members.
They have identified five pledges and are asking the superyacht industry to adopt these in part or in full to inspire a change in mindset.
To avoid any use of plastic bottled drinking water onboard
To filter and safely dispose of all washing machine microplastic waste
To eliminate the use of all single-use plastic items with readily available alternatives
To reduce the use of single-use plastic toiletries onboard
To actively source provisions with low single-use plastic footprint packaging
It is evident that change is coming to the industry, and with the superyacht industry predicted to grow by 19% from 2021 – 2031 (in terms of fleet), we hope to see a much higher proportion of yachts utilising sustainable solutions.