The superyacht industry: From the porthole looking in
Our Marketing Executive Clare recently embarked on her first business trip with OceanWeb to the West Coast of Italy. The purpose? To gain a deeper insight and understanding of the unique and colourful world of the global superyacht industry. As a new recruit, we asked her to share her trip experience and her first impressions of the industry.
Clare's Italian Travel diary – March 2022
Home to several established superyacht builders celebrated for nautical architecture, Italy was an excellent destination for my first foray into the industry. Before taking on my new position at OceanWeb, my knowledge of superyachts was restricted to admiring them in the marina on holiday and on TV. After now having had a brief glimpse inside the industry, I believe it to be as interesting and impressive as it appears from an outside perspective.
New build projects
The superyacht industry is currently experiencing a boom, due to Covid 19 and the subsequent rise of remote working, which means new build projects are at an all-time high. Day 1 of the trip started with a visit to the Sanlorenzo shipyard in La Spezia, which as of December 2021, had 117 new build projects on order, the second-highest total from any builder in the industry. This figure was reflected in the busy and lively shipyard, filled with hundreds of workers and several luxury superyachts in various stages of development.
We were at the shipyard to attend a meeting involving a 62m new build project, in which OceanWeb has been appointed as the owner's IT representatives. In attendance were the yacht's experienced project managers, a power couple working on various yachts for their clients all across the globe, and the yacht's respective Captain, both close, long-time contacts of OceanWeb. Representatives from the shipbuilders, Sanlorenzo also joined us.
The meeting was focused on the IT and communications set-up of the yacht and was led by our field expert Ben. Discussions centred around the VSAT antenna positioning, to ensure any blockage is minimised, and the 4G and 5G networks, both critical components to provide reliable and continuous high-speed connectivity, which is ultimately our aim for all clients.
After the meeting, we got the chance to explore the shipyard and walk around the new build motor yacht, which was in its pre-fairing form. A member of the shipyard explained to me that the fairing process can take 12-18 months. This labour-intensive process ensures the surface is level and smooth, ready for painting.
It was interesting to see a yacht in this early stage of construction, and with a bare interior, it was clear to see the large volume of the 1280 GRT yacht. An area of yachting that I had not considered was the need to create large spaces to store food waste whilst at sea. This yacht had two dedicated rooms for food wastage to ensure it is kept in optimum conditions to prolong freshness.
The yacht is expected to be completed and handed to its owner in Q3 2023, so fingers-crossed we get to visit the yacht again in the future to gain a true before and after perspective.
Over dinner that evening, I took the opportunity to ask the Captain of the new build, who is currently working on a yacht in Montenegro, some quickfire questions:
Do you ever get seasick? Yes, particularly in the early days of my career
Any pirate stories? Thankfully no, pirate attacks are not much of a threat in the Mediterranean, particularly with the increased safety features of modern yachts. Piracy is more common in the Indian Ocean and Gulf of Guinea, both high-risk areas.
Do you prefer captaining a charter or private yacht? Private
What is the largest yacht you have captained? 65m
How many crew did that yacht have? 23
We also discussed life at sea and the importance of maintaining a hardworking and experienced crew. His closing words, 'I used to be a sailor, but I'm alright now'.
Meeting prospective clients
As previously mentioned, the industry is experiencing a growth period, creating exciting opportunities for OceanWeb. We started our second day at Marina di Carrara, meeting a potential new client, a 75m new build luxury motor yacht. Ben and I met with the yachts Captain, Chief Engineer, and ETO, who had heard about our services through a positive recommendation at the shipyard (which is always fantastic to hear!). When approaching any prospective client, key questions we ask are what equipment is already on board, the yachts itinerary and the number of guests and crew. This enables us to propose the best possible tailored solution.
A growing topic in the industry is cybersecurity, evidenced by the level of interest and importance this newly formed crew placed on it. OceanWeb is a full-service provider; therefore, we cover all potential IT and communication requirements, which is always a huge benefit, and USP, when approaching new clients.
Benetti shipyard
Next, we travelled up to Livorno to visit the Benetti shipyard. Benetti is one of the oldest Italian superyacht producers, established in 1873, specialising in custom luxury yachts and superyachts. We arrived at the offices to discuss another exciting new build project, a 50m Benetti currently under construction. Being involved earlier on in projects is always a benefit to OceanWeb as it means we have more control of the initial hardware specifications, positioning and IT networks.
During the meeting, the VSAT positioning was highlighted as a key issue due to a possible large angle of blockage. Correct placement of the VSAT antennas is essential to receive continuous internet connectivity. As a rule, the higher up the mast, the better, to achieve maximum satellite visibility. However, shipbuilders and designers often value form over function, focusing on aesthetics instead of performance. It is therefore a balancing act to satisfy the two demands.
The final task for day 2 was a quick visit onboard Is a Rose, which was docked within the Benetti shipyard. The 50m Perini Navi is a classic and elegant sailing yacht, that accommodates 8 guests. Alongside the yacht was her 25m eco-tender used as a supplementary vessel.
OceanWeb has been providing services to Is a Rose for many years, and therefore the crew were familiar faces to Ben. We chatted to the crew, who were in high spirits as they prepared the yacht to sail to its next destination. During the trip, I found myself generally more interested in the mega motor yachts, but Is a Rose, with its timeless and charming interior, really stood out as a gem of the sea.
It's not all glamour.
Our final day in Italy took us back to Marina di Carrara where we visited the Italian Sea Group shipyard. Ben was ready to commission a VSAT on a classic Perini Navi before it sets sail for the Mediterranean season next month. The 46m sailing yacht was built in 1991 and is another yacht that OceanWeb has been providing services to for a number of years. Deep in preparation for its upcoming trip, the beautiful yacht was covered in drapes, equipment and the eight-man crew were busy at work. I was introduced to a yacht's not so glamourous areas, the engine room and the technical space under the wheelhouse. A tiny cupboard under the stairs, which our engineers are all too familiar with.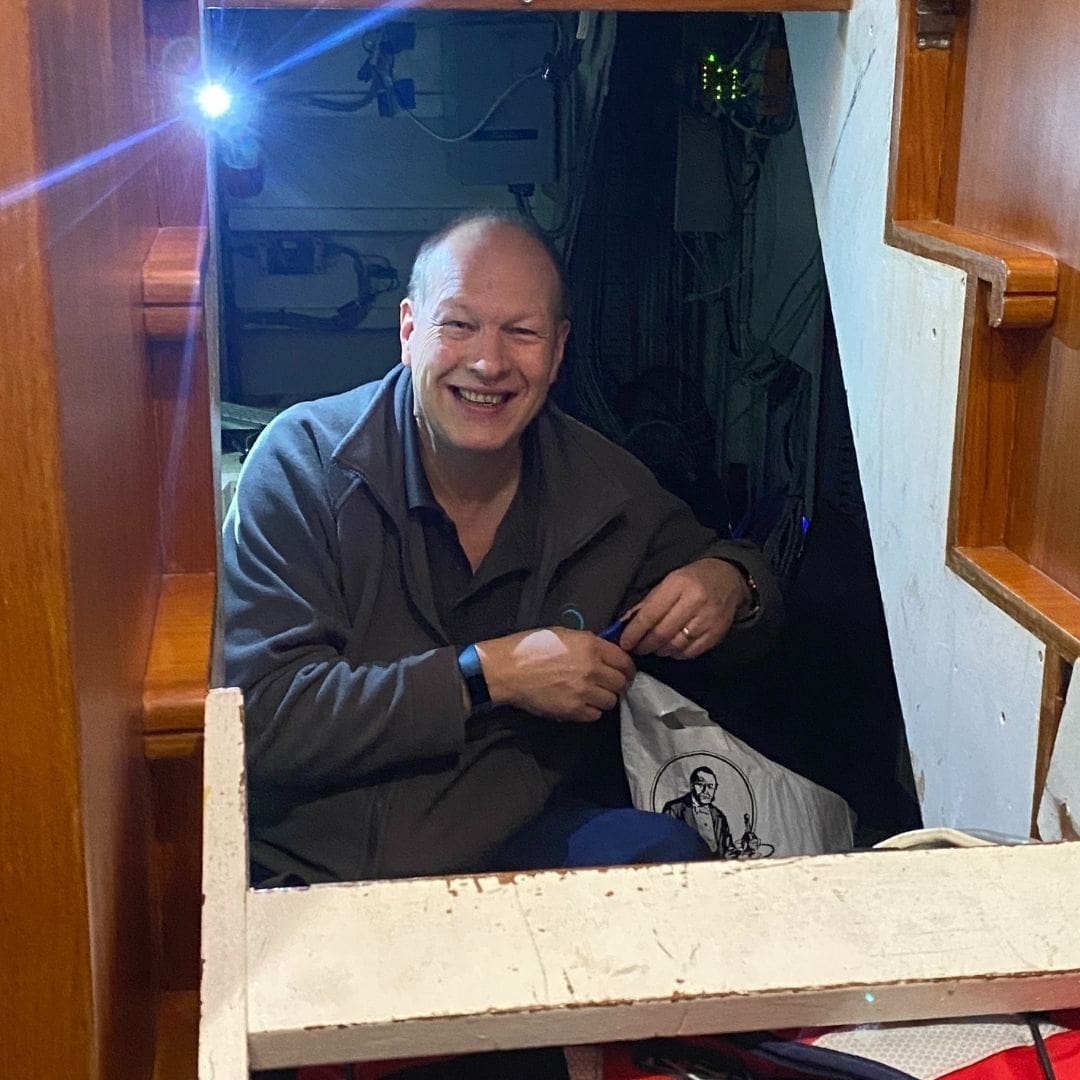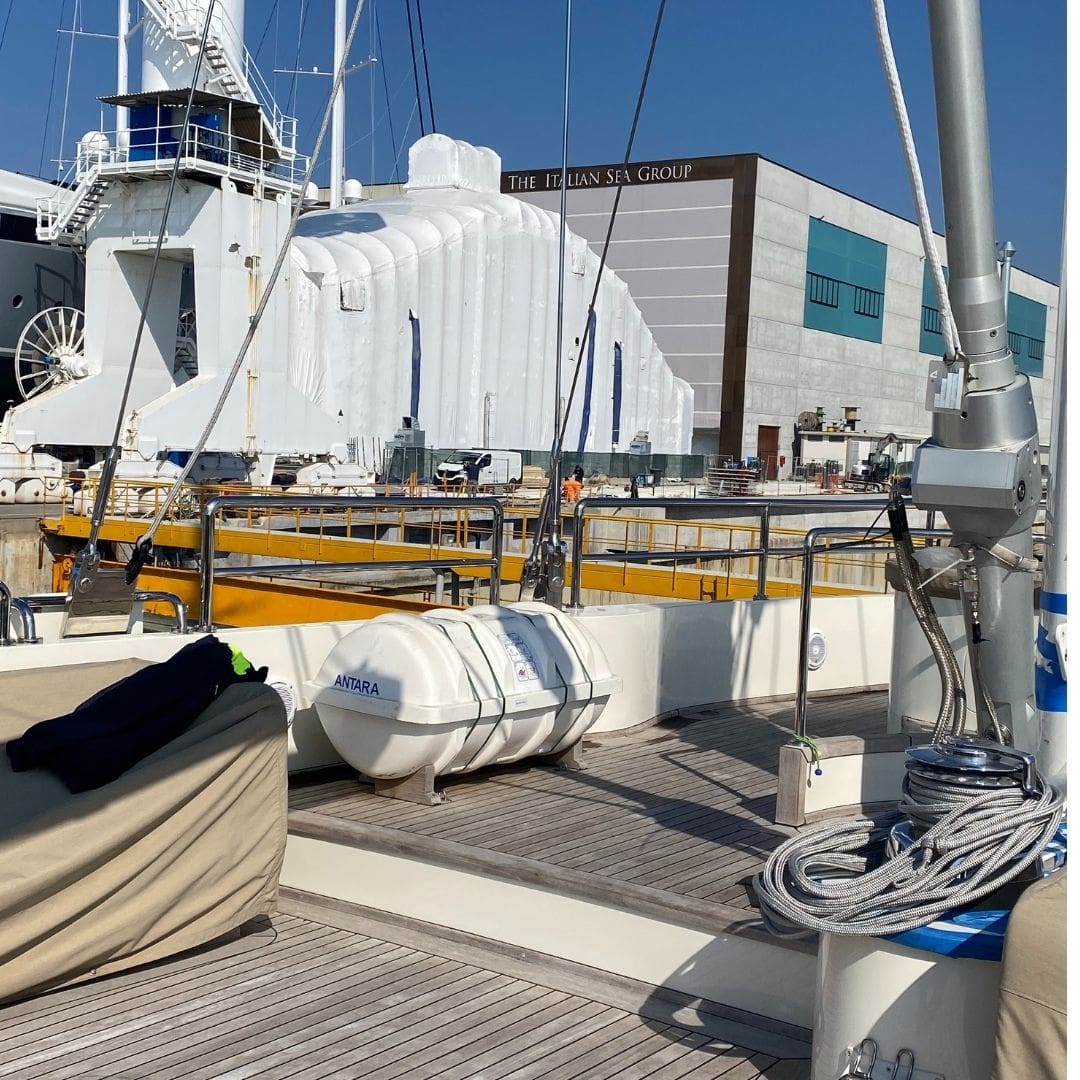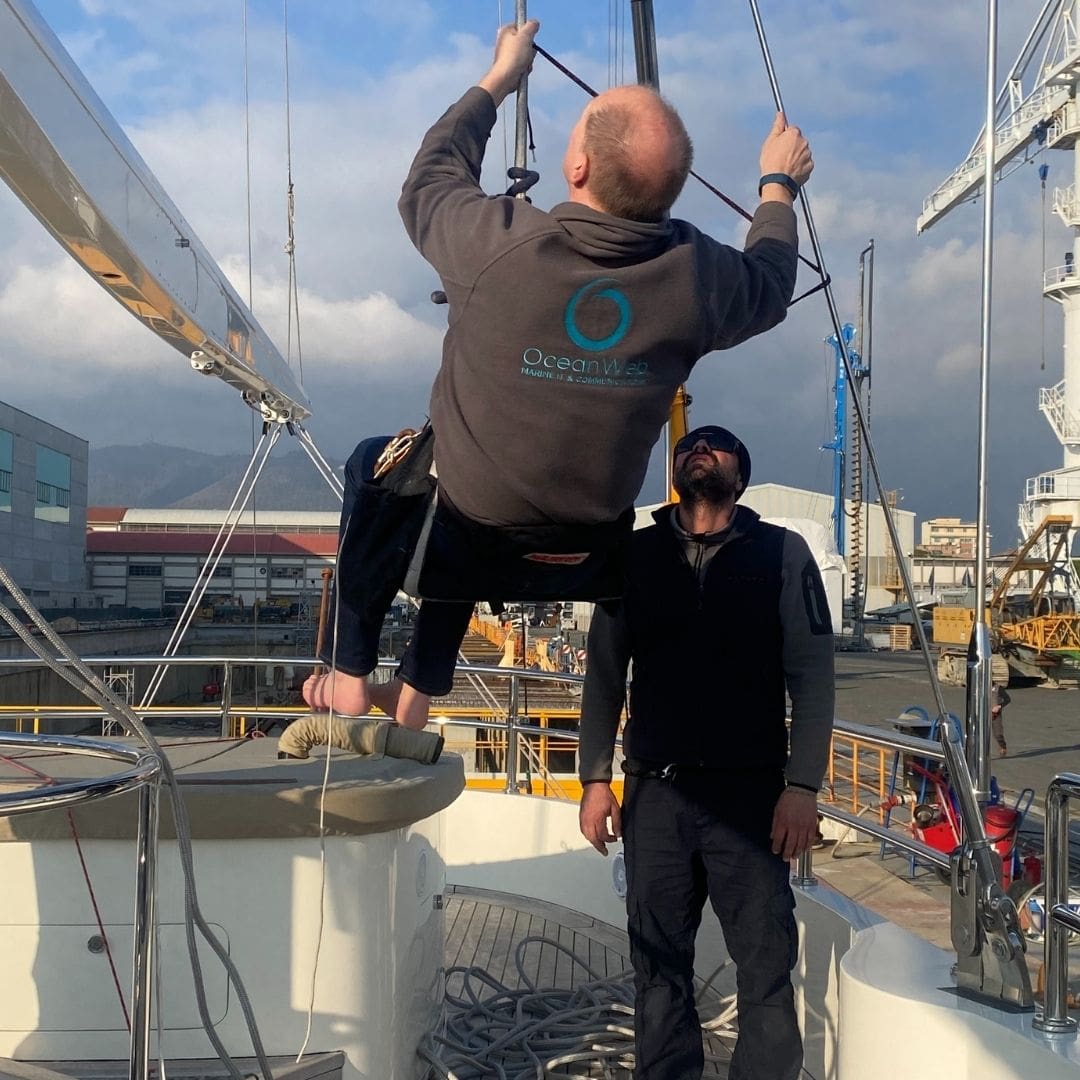 The commissioning of the VSAT we soon discovered would be more complicated than expected due to critical wires being incorrect and ill-fitted. With little help to offer from a technical perspective, I took the opportunity to take in the views from the fly bridge.
We had an authentic crew lunch, purchased from the shipyard cafeteria, which we ate in the crew mess. Throughout the trip, we met several crew members from around the world with varying levels of experience and responsibilities, all of which were incredibly friendly and accommodating.
After 6 hours on the yacht, and a trip up the mast for Ben, we were starting to see some progress. One of our core values at OceanWeb is team work, and this rang true as our engineers back in the Isle of Man worked remotely with Ben and the onboard 2nd engineer to find a workable solution. The end result? A connected and working VSAT.
Final thoughts
Perceived as glamorous and extravagant, behind the scenes of the immaculate superyachts are an army of individuals, all working hard to deliver on the high expectations set by owners and guests. One thing is for certain, to successfully operate a superyacht in the long-term, deep pockets are required. From upgrades and refits, to hiring an experienced crew, the cost of running a floating fortress is significant.
IT and communications are just one of the never-ending list of services and tasks a yacht Captain needs to consider, which is why providing a proactive and consistent service is essential to OceanWeb's continued success.