High-speed connectivity in COVID times
Cast your mind back, if you can, to a time before COVID had brought the travel industry to its knees. Even back in that long-forgotten world, the demand for high-speed and reliable connectivity from the superyacht industry was on the increase. Rapidly so! Fast forward a year; working away from the office has become normalised, international travel is still, for the most of us, a distant memory, and the "new normal" is now just normal. Jumping on board a yacht and heading off into the sunset has never seemed more appealing. For those lucky enough, the option of taking the "working from home" lifestyle to the open water is very real. And with it, the realisation that uninterrupted connectivity, and the right hardware, is essential.
The increased demand for reliable VSAT and global coverage has come as no surprise to industry insiders. Even pre-pandemic, innovation was bubbling all around us as the maritime sector sought out enhanced reliability and faster connections. Internet at sea, supplied by satellite, will never be as fast as the land-based equivalent, but we're certainly getting close! The likes of Inmarsat never stop innovating. Their latest offering in the field of high-speed global connectivity – Fleet Xpress – is truly revolutionary. A game changer for the more intrepid seafaring traveller, offering unrivalled speed, continuous connectivity, and guaranteed global mobility. It's an exciting time for the industry and there's no doubt that smarter technology is around every corner.
As with everything, increased bandwidth and guaranteed stability do come at a cost. One which cannot be ignored. For many, a hybrid network is the most cost-effective setup on board your superyacht. This combines the cheaper options of 4G and 5G SIMs with local wifi (for when you're hugging the coastline) and the more expensive satellite internet options which allow you to remain connected as you go further afield. Some suppliers offer amplifiers that can increase your cellular data range, but there are still limits at this stage. For now, satellite broadband, or a multi-channel system, is still the only viable option for achieving continuous connectivity. As such, flexibility from your airtime supplier is another essential to maintain your superyacht's status as a viable office alternative.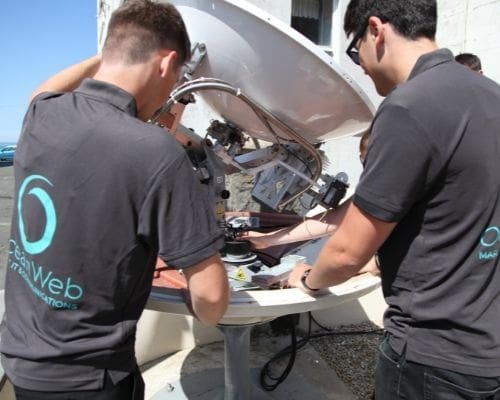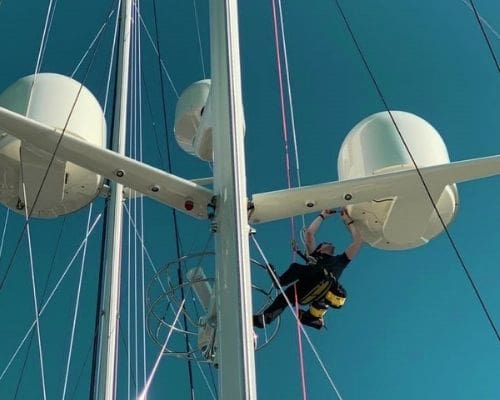 The final consideration before setting sail on your office at sea is the security of your onboard systems. Sadly, even as the industry gets better at fending off cybercrimes, so too do the criminals themselves become more creative. It's never been more important to have competent
IT professionals
looking after your network and protecting you against cybersecurity risk. These are, after all, everyday threats that superyachts are no exception to. It's common to allow guests to connect their own personal devices – smartphones, watches and tablets – to the boat's network. This creates a "bring your own device" or BYOD environment, which heightens your vulnerability to security breaches. Simply put, the more outside connections there are to your network, the higher your risk of cyber-attack.
As any business owner forced to quickly adapt to our new world will tell you, having a strong support network is key to successful change. Suppliers that intimately understand your yacht's onboard systems and can offer 24/7 remote support are critical to achieving this goal. With the right team and the right infrastructure behind you, there's no reason why "working from home" can't become "working from anywhere".