25 years of superyacht IT: OceanWeb celebrates its 25th anniversary
From building a website in 1997 to providing an extensive range of satellite and IT services to a fleet of 100+ superyachts, OceanWeb has had quite the journey. OceanWeb, as a business, grew out of a love of diving, sailing, and a talent for IT. We spoke to OceanWeb's founding Managing Director, Dr Ben Hextall, on how the company came to be, the recipe to its success, and plans for the future.
Q: Tell us about the business's origins and the early days of OceanWeb?
"After completing my PhD degree in Marine Biology, I took on a sales role at Apple Computers, however, I always knew that I wanted to start my own business and have the autonomy that comes with being your own boss. An opportunity arose in 1997, when my good friend Rick Tomlinson, a professional photographer, decided to compete in Whitbread, an around-the-world yacht race, viewed as the pinnacle in yachting. I discussed my desire with him to set up my own business and he became my first customer."
"I worked for him 2/3 days a week, building a company website and developing a solution for transmitting his photos. The images were taken on E6 slide film, in the Southern Ocean, and then scanned to an apple laptop. I discovered how to connect the laptop to an Inmarsat MiniM satellite phone, dial into CompuServe at a speed of 2.4kbps, (to put this into context this is ¼ fax speed), and FTP the image to the office. I would then ISDN the images to all national papers. Quite different to the photography methods of today!"
"Rick and I shared an office in Hamble, the yachting capital of the UK, and with my days off I was able to look for further work. My next big project involved supporting Mike Golding who was preparing for the Vendée Globe, a single-handed, non-stop around the world yacht race. Arguably the toughest of all yacht races. Preparations spanned over four years, which involved creating a website and looking after the computers, MiniM and Satc onboard. I began picking up other yachting projects along the way, such as the Clipper, a record-breaking, 40,000 nautical mile race around the world, putting Nav and Com PCs on all 10 competing yachts."
"The business's first superyacht client came in 1997, Timoneer, a 37m sailing yacht. I was tasked with creating a website to help sell the yacht. The yacht sold within a few months, which was great news, until I realised I had lost a client due to the website's success. The captain went on to rebuild Timoneer, a 44m sailing yacht, which I again worked on."
"A significant client win happened in Genoa in April 2004, where I was invited onboard Andromeda La Dea, a 47m Perini Navi sailing yacht. This was a big turning point for the business, which has grown organically ever since."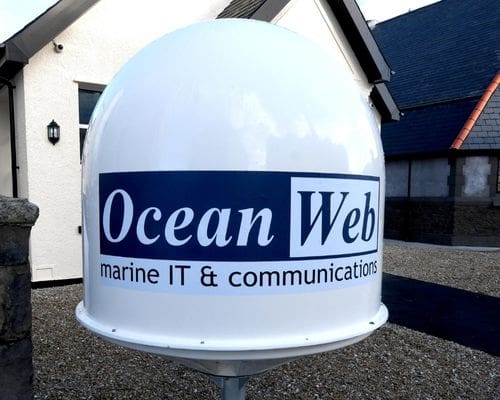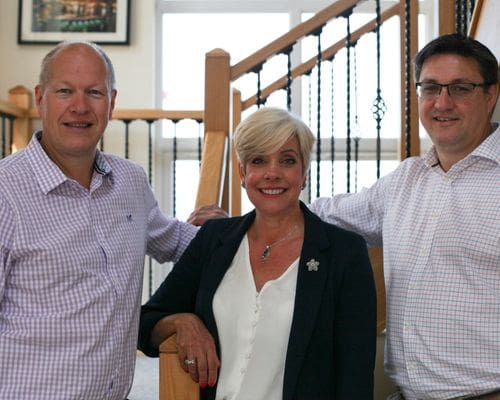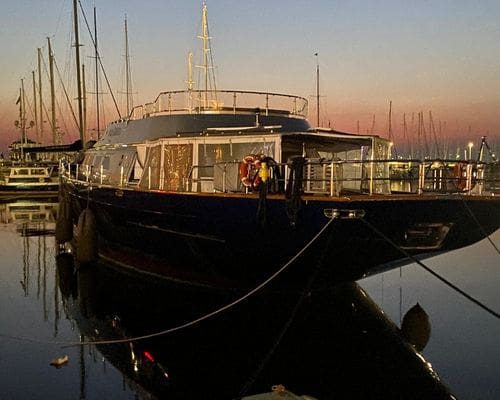 Q: When was OceanWeb Ltd formed, and what inspired the name?
"In 1999 OceanWeb Ltd was established, at this stage, my wife Sara joined as a director and began managing the business accounts. From there on out it really has been a team effort, with Sara taking on the administration, corporate and HR elements of the business. A perfect fit based on her academic and professional experience."
"The name? This was quite simple. I love the sea, so thought I'd call the company 'Ocean'. However, with that domain being taken, I settled on OceanWeb, combining both elements of the business. I purchased oceanweb.com and oceanweb.org in 1998. The original logo was heavily inspired by a logo I saw on a copy of FileMakerPro, which served us well for over 20 years."
Q: From 1997 to 2022 how has the business evolved?
"Connectivity has changed dramatically. When I first started working with yachts the technology was based on a dial-up. The yacht would connect to the internet three times a day, and for email use only. It was never used to surf the web, due to a lack of technology and extremely high fees. I designed an email system whereby we had a remote terrestrial server which would mimic the onboard email server. This meant all emails could be collected and sent through the terrestrial server to minimise time online. We would also strip out images and compress emails to limit usage."
"Marina Wi-Fi, 3G and VSAT all came in at around the same time, from 2006 – 2009. This caused a significant development in the availability of connectivity for superyachts whilst at shore and sea. As technology has evolved, so has the business, offering new services to our clients as they become available. As of 2022, we offer 15 different services to our clients."
Q: What do you think has been the key to OceanWeb's continued success?
"I remember sitting with our business bank manager shortly after forming the company who told me that most businesses fail within 3 years. I am delighted that OceanWeb has not contributed to this statistic, and I think our success really comes down to giving 110% effort, in everything we do. As a company we differentiate ourselves from competitors by providing a personable service, building close relationships with captains and crews, based on trust and respect. I think this really is the key to our longevity, which is demonstrated by the number of referrals and recommendations we receive."
"Our services have also become increasingly flexible over the years, as we have adapted to industry changes and clients' requirements. This is another key element to the success of any long-standing business. You must adapt and change with your clients, otherwise you're at risk of getting left behind."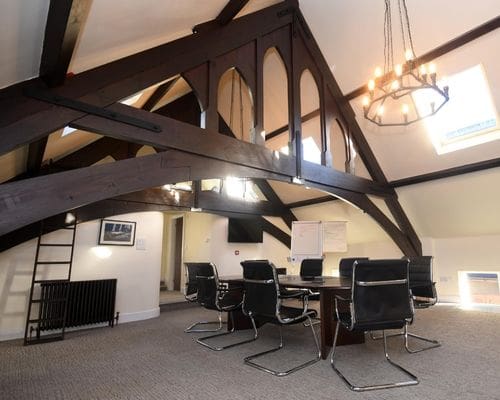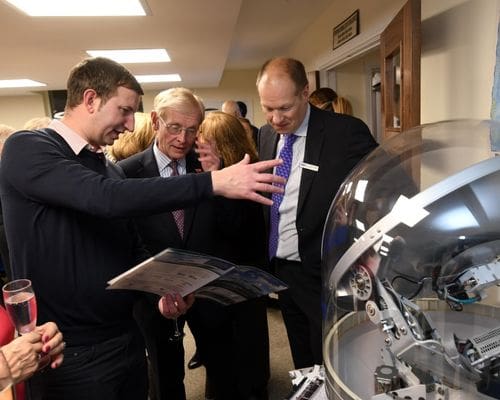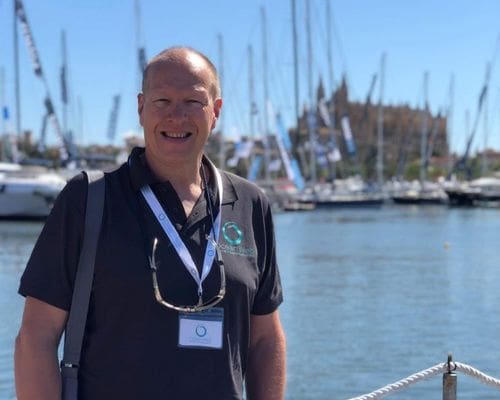 Q: What stands out as a significant moment in the company's journey?
"For me personally it was purchasing our current office. OceanWeb's HQ in Port Erin, Isle of Man, has been designed specifically with the business in-mind and took extensive renovations to achieve. The office is a former Sunday school and has been custom designed to enable us to provide expert, worldwide support to our superyacht clients. We moved into the office in 2016, and it is an asset Sara and I are incredibly proud of."
Q: What do you see the future looking like for OceanWeb?
"I think looking ahead, we will continue to diversify into more IP-based services and systems, such as AV, CCTV and PBXs. Cyber security is also an evolving area in which we are becoming more involved in. As yachts get more complex, I believe there will be a growing requirement for IT support, one of our core services. Supporting vessels will likely also become easier with the availability of higher-speed connectivity, such as LEO-based service Starlink."
"It's an exciting time for the business, and for the industry, with demand for both yachts and onboard connectivity at an all-time high. It's been an excellent 25 years, filled with growth, learnings, and exciting milestones. I look forward to the next stage of OceanWeb's journey being just as fulfilling."