Superyacht Network Updates: Upgrading and Futureproofing
Technology is ever evolving, and in recent years we have seen significant updates and innovations within the IT and communications landscape. As a result, it is common in our field for superyachts to require major refits every five years, with most yachts having a yard period at least once a year for upgrades and repairs.
Modern superyachts are often home to the latest and greatest technology, as desired by owners and guests. Our job as marine IT specialists is to ensure our clients on board networks are running to optimum capacity and benefiting from the latest industry innovations. Futureproofing is a crucial consideration when selecting hardware due to emerging technology, such as LEO and MEO satellite constellations and the rise of 5G.
The Client
In November 2021, we were approached by our client, a 56m Perini Navi, who we have worked with for many years regarding extensive communication and network upgrades. The award-winning yacht is a busy charter vessel with an extensive itinerary. Therefore, meeting timelines was a key component of the successful completion of this project. The yacht was experiencing network issues due to the Wi-Fi and end-of-life switching. For example, the wireless access points could not reconnect to the system when power was lost due to an expired security certificate. A failed fan in the core switch was also challenging to source replacement parts for. The yacht's onboard network and systems needed considerable and wide-ranging upgrades.
The Project
This project involved updating and futureproofing the yacht's VSAT antennas, implementing a new 4G/5G system, upgrading the wired and wireless network, and improving the existing CCTV system onboard. Headed up by OceanWeb's lead engineer Aaron Hicks, the project demanded meticulous planning, effective communication with the yard and vast equipment orders to ensure we could carry out the full scope of work during the engineer's week-long trip.
As one of OceanWeb's most extensive vessel upgrade projects, we ensured pre-configuration of equipment was carried out in our bespoke workshop at the OceanWeb HQ. Aaron explains, "We configured all network equipment with relevant VLANs, SSIDs and IP addressing. This network was tested in the workshop to ensure all devices were communicating as expected. This saved time when we were onsite as it simplified the installation process, leaving only rack mounting and cable connecting to be completed".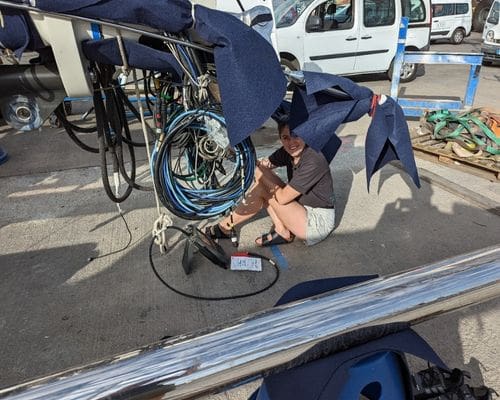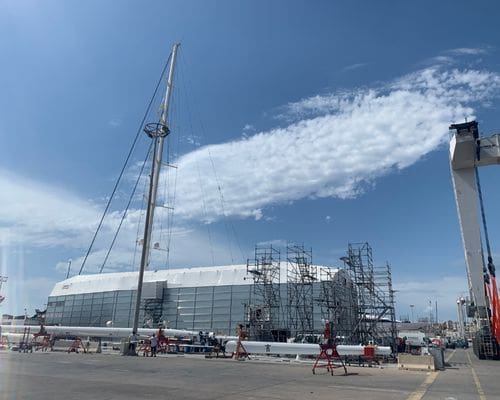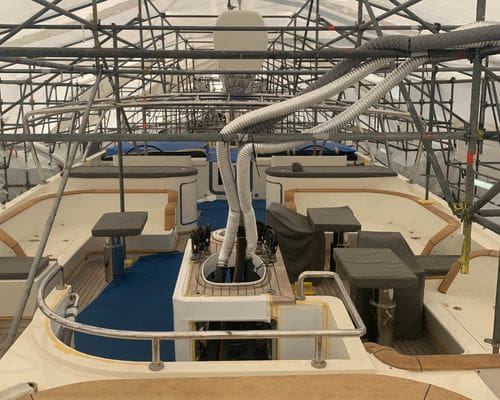 Network Installation
Removing obsolete network equipment was a preliminary task carried out by our engineers to make room in the IT racks. During this process, they tidied the cable runs within the racks and released the tension and tightness on the cables. This was achieved by removing the cable ties, and re-routing cable runs where possible. "This alleviated strain on the cables to prevent damage, improve the ability to physically trace the cables between the equipment and help with ease of access to the equipment installed in the rack," Aaron explained.
A significant challenge of this project was met at the planning stage whilst trying to understand the existing network cabling on board. Most of it was legacy; therefore, little documentation was available.
The network switches needed replacing as they were near end-of-life, meaning that no further manufacturing support or firmware updates were available. The upgraded network switches chosen for this project were Cisco Catalyst 9200 series switches, Cisco's latest range of enterprise-level switches with the required features for the network.
In addition to network switches, all access points were removed and replaced, along with the installation of two additional external access points to improve coverage on the decks.
4G/5G Solution
The yacht also required an updated 4G/5G solution, which included a Pepwave MAX HD4, an OMDO (Offshore Mobile Data Optimiser) and a Pepwave BR1. The combination of an HD4 & OMDO provides a robust 4G solution with the ability to retain signal up to 30kms offshore. The installation of the BR1 5G ensures the yacht can use 5G when available in marinas. 5G and 4G need to be used as a combined solution, as whilst 5G has a much greater bandwidth capacity, its range is much shorter at 500m (2% of 4 G's range).
Aaron noted, "The above solution ensures the yacht receives the best cellular off-vessel connection available. The set-up replaced an assortment of old routers, which had been combined as a short-term solution. We selected cellular scan antennas to support the 4G solution and a 5G Peplink antenna for the BR1."
A Complete Solution
A vital upgrade element includes the installation and commissioning of two new VSAT antennas (Intellian V100NX) and Starlink. This will be performed on a follow-up visit when the yachts mizzen mast is back up, as this is where the VSAT domes will be installed. Additional work to be completed includes tracing and documenting cabling and installing replacement CCTV cameras.
With a fully upgraded network, futureproof VSAT antennas, a reliable 4G/5G solution and an innovative LEO solution, Starlink, the sailing yacht, is very much set up for success, benefiting from the latest in IT and Satcom technology.