Monaco Yacht Show 2022: Highlights and reflections
The industry gathered last week for the 31st annual Monaco Yacht Show, an international show dedicated to the world of superyachts. After a brief hiatus in 2020 due to the covid pandemic, the show returned with a refreshed approach in 2021, placing a greater focus on superyacht clientele, with categorised visitor passes to provide a more tailored experience. These passes, 'Discover, Advise, and connect,' returned this year, and on Wednesday (the show's opening day), access to the dockside was invitation only, all part of the show's new format.
This year more than 100 yachts were presented at the show from world-leading shipyards such as Lurssen, Benetti, Heesen and Sanlorenzo, and 550+ exhibitors were in attendance at the famous port. During the show, Sunseeker revealed its most significant investment in product development, and SuperyachtTimes' annual show report revealed a total of 281 superyachts (new and used) were sold in the first half of 2022. Both are clear signs that the industry is still very much booming after its significant post-pandemic growth.
The greener, the better – a focus on sustainability
This year's show placed an increased emphasis on sustainability, with the launch of a new exhibition area dedicated to companies that specialise in technology to reduce the environmental impact of superyachts. The 'Sustainability hub' included companies such as GoodFuels, which develop high-quality, sustainable, scalable and affordable biofuels, and French-based EODev, whose mission is to accelerate the 'energy transition' by providing reliable, efficient, and affordable industrial solutions.
Environmental credentials were also a key theme amongst many of the concept and new build announcements from leading shipbuilders in attendance.
Benetti announced their new concept, 'Project Oro, ' which will be fitted with hybrid propulsion (like many of their other yachts).

Sunreef announced the signature of a build contract for its first Sunreef 43M Eco catamaran, which according to the shipyard, is 'the world's biggest electric leisure catamaran'.

Rossinavi's 42.75 metre Sea Cat – this hybrid catamaran is currently under construction and is the first multihull project from the yard. The yacht will feature four different energy models that can be utilised depending on the cruising demands.

Italian shipyard Amer revealed their new explorer model Amer 41 steel during the show, which will be fitted with advanced new propulsion systems that will 'significantly reduce consumption and emissions'.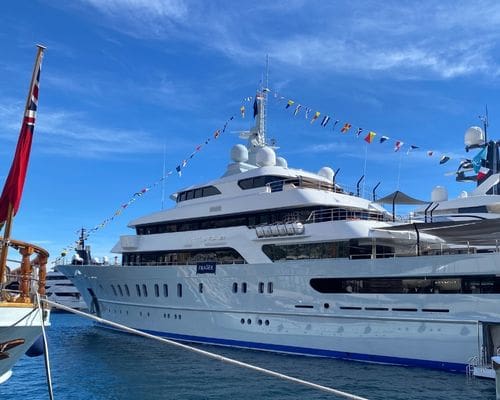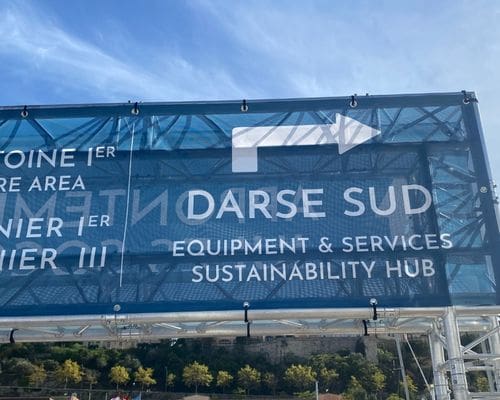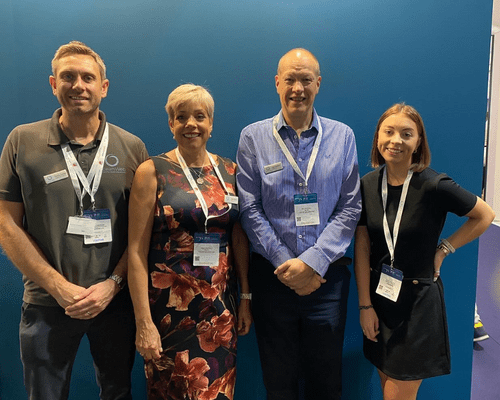 Starlink, OneWeb and the evolving world of Satcoms
From an IT and technology perspective, few developments can surpass the excitement and current buzz around new LEO satellite constellations. Starlink was the word on everyone's lips, with the new 'maritime' antenna, the flat high-performance model, on display, which is ready for shipment later this year. Starlink CEO Elon Musk stated that this new antenna is rated for 280+kph (174+mph) and has an operating temperature ranging from -30C to 50C. Unlike previous models, the high-performance antenna doesn't have tripod legs; instead, it has a flat base that enables easy installation.
Starlinks solutions are already being adopted by the maritime sector, with high speeds, low latency and low pricing being its biggest draws. The service is currently available in Europe and coastal areas of the US, the Caribbean, Australia, and New Zealand, with plans for further expansion in Q4 (2022) and Q1 (2023). Starlink is showing no signs of slowing down, with SpaceX launching a Falcon 9 rocket every 6.4 days.
Also in the low earth orbit market are OneWeb, who introduced their new superyacht offering at the show in partnership with Kymeta. This joint offering, created specifically for superyachts, hopes to rival competitor Starlink Maritime. Recent tests of the service demonstrated download speeds of up to 200Mbps, facilitating streaming and gaming with continuous, seamless coverage. A benefit of this service is it removes the need to choose regional plans or change services (due to OneWeb's global and mid-ocean connectivity). Deliveries of the antenna are projected to begin in early 2023, with the service available through OneWeb-certified yachting partners, such as airtime provider Speedcast.