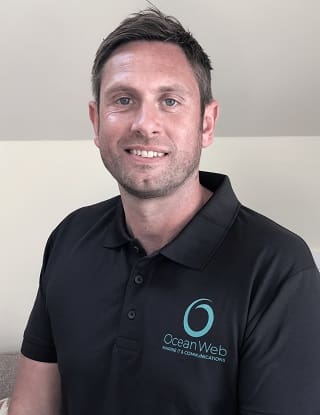 OceanWeb Ltd has seen considerable expansion in the last 16 months with the addition of two Technical Support Engineers, a Marketing Executive and, most recently, the appointment of a Business Development Executive.
Based in Port Erin, OceanWeb Ltd provides IT and communications support to the Superyacht industry, ensuring effective and constant communications networks are in place.
We are pleased to announce that Danny Creedon joined the OceanWeb Ltd team last month in the role of Business Development Executive. Having recently moved to the Island from the UK, Danny holds a degree in Business and has over 10 years of experience in Management and Executive positions at world renowned brands such as PepsiCo and GlaxoSmithKline. We are certain that he will be a valuable asset to the Company.
Danny is working closely with Dr Ben Hextall, OceanWeb Ltd's Managing Director, to build new and existing client relationships and promote our range of communications solutions and technologies to the global Superyacht Market.