Luxury charters and onboard entertainment
We're now into the winter charter season, which sees luxury superyachts travelling to one of the world's greatest yacht cruising grounds, the Caribbean. With high season on the horizon, and guests paying a premium for Christmas charters, the expectations are high for all aspects of their experience. Guests want choice, luxury, and delivery on demand. From world-class chefs, award-winning wines and garages filled with tenders and toys, extravagance can be found at every corner.
Technology and connectivity play a crucial role in delivering a high-quality guest experience. From meeting bandwidth demands, recreating a cinema environment onboard and advanced AV systems, the importance of a slick and smooth network can't be underestimated.
Ultra-high-end AV/TV systems
Guests expect entertainment to be second to none. They want a cinema with the latest systems, a cabin with access to streaming services, high-speed internet, and everything to work exactly as designed, precisely when demanded.
In an attempt to meet this demand, entertainment and AV is an ever-evolving business filled with innovation. Examples of innovation include smart full HD TVs that can easily switch to transparent glass and outdoor cinema setups. An outdoor IMAX is a growing trend in the industry, and the sailing yacht Maltese Falcon is a brilliant example of this, with films projected onto her sails.
The challenge for integrators such as OceanWeb is combining all these systems, old and new to work seamlessly alongside a user-friendly control system. When it comes to AV system design, we're proud to be a provider of choice. The smart technology we use from RTI is entirely customisable to the existing onboard entertainment system, a key differentiator to our competitors who target the refit and new build market.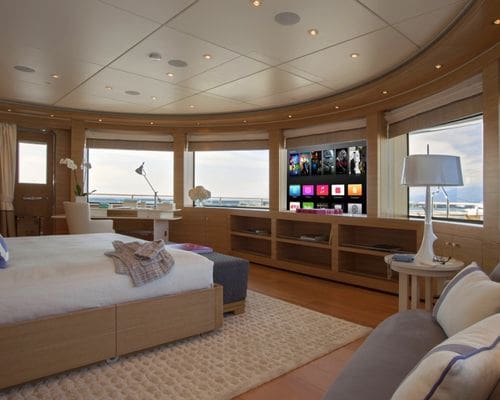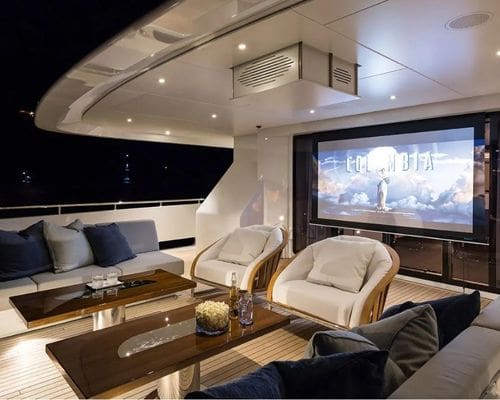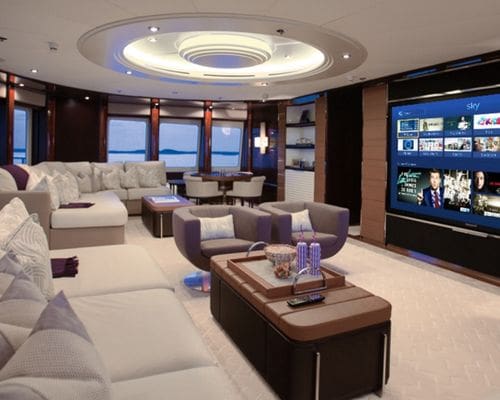 Everything from lighting to air conditioning is fully programmed and controllable at the touch of a button, and media systems can be instantly accessed and effortlessly choreographed. Adding iPads throughout the yacht's interior provides secondary controls that are simple for everyone to operate. In addition to full customisation, configuration and installation, our certified engineers provide user training and ongoing technical support to vessels. 
With the digital revolution in full steam, the superyacht industry must keep ahead of the curve. Satellite TV used to be a staple onboard, achieved through the installation of a TVRO; however, with the rise of streaming services, we have seen a decline in demand for traditional satellite TV services such as Sky. Whilst streaming services provide guests and crew with a vast choice of content at the click of a button, the bandwidth required for streaming is significant and not always affordable whilst out at sea.
Meeting bandwidth demands
Whilst on charter, the bandwidth demands on vessels are extremely high. Ten guests may have three devices each, all demanding bandwidth and often expecting speeds comparable to that they experience at home. Large charter yachts will have a number of off-vessel connections such as VSAT, Fleetbroadband, 4G/5G, Marina Wi-Fi, and, more recently, Starlink. VSAT high-speed upgrades are a common request from yachts which are about to head out on charter. A typical high-speed VSAT upgrade is around 10mbps download in order to support the increased bandwidth demands.
Effective bandwidth management can be achieved through a network gateway such as a Kerio. In simplistic terms, this allows off-vessel connections, such as 4G, to be assigned to specific users. So, for example, in a charter scenario, you might assign a 4mbps VSAT and 10mbps 4G service to guests and limit the bandwidth available for the crew. Rules can also be added, such as blocking social media websites for crew between specific hours. Please find further information on how we can support your bandwidth here.
The development of low latency connectivity solutions, such as 5G and Starlink, means services such as streaming are becoming increasingly achievable at a lower cost. As a result, access to greater bandwidth may enable exciting advancements in the world of superyacht AV/IT.